The Neighborhood: Kalorama
Written by Westmoreland resident Steven Johnston
The Westmoreland, situated in the Kalorama Heights neighborhood, offers a wonderful combination of city and suburban living. Located on California Street just west of Connecticut and Columbia Avenues, the buzz and beat of Dupont Circle, Adams Morgan, and the U Street corridor, filled with notable ethnic restaurants (Greek, Italian, Chinese, Thai, Brazilian, Mexican, Spanish, Ethiopian, Indian, Lebanese, and Peruvian) and specialty shops provide a contagious energy. Our location also means that the entire city is at your fingertips. Georgetown is a twenty-minute walk across Rose Park on P Street. The National Zoo is fifteen minutes on foot north on Connecticut. Downtown, the White House, the National Mall, and Capitol Hill are just short cab rides. Don't just take our word for it. The Westmoreland's address is deemed a "walkers' paradise" from the nationally renowned Walk Score, which helps people find a walkable place to live in America.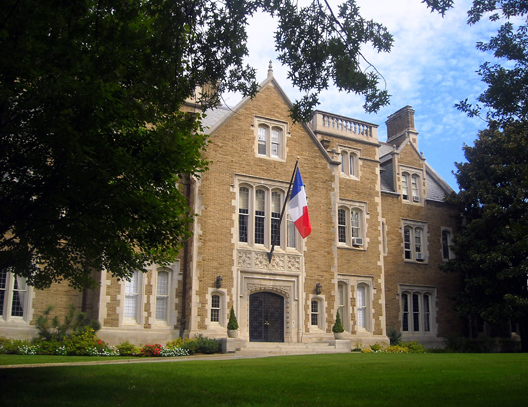 Residence of the French Ambassador, located three blocks from the Westmoreland
Photo courtesy of WikiCommons.
Yet the Westmoreland also enjoys the quiet and serenity of the suburbs. Filled with elegant co-ops and condominiums as well as stately mansions and embassies, the neighborhood is a bucolic and architectural pleasure, a great place to take a walk in the surrounding streets. Two blocks north on Kalorama Road, you will find the French and Portugese residences overlooking Rock Creek Park. Three blocks south you will find the home of former President Woodrow Wilson. Three blocks west Massachusetts Avenue and Embassy Row form a kind of border. The streets are largely cut off from the normal flow of city traffic and filled with shade-giving trees. You may or may not run into someone on the sidewalk, depending on the time of night or day, and one of the joys of the neighborhood is that it is safe to take a walk at night. These are just some of the ambulatory highlights.
The Spanish Steps. Just a few blocks from the Westmoreland.
Many assume urban living is difficult and frustrating, what with noise, congestion, and traffic, among other things, but the Westmoreland's centrality proves otherwise. If you need to shop for dinner, take your pick from Whole Foods, Harris Teeter, or several Safeways. On Sundays, Dupont Circle sports an impressive farmer's market replete with fresh fruits and vegetables, meats and seafood, breads and pastries, fresh flowers, and arts and crafts. There are smaller farmer's markets doing business in Adams Morgan and Logan Circle. If you'd like a bottle of wine to accompany your meal, you can choose from The Wine Specialist, Bell Wine and Spirit, Best Cellars, and Calvert-Woodley Wines and Spirits. If you'd rather eat out, many of the city's finest restaurants, including Komi, Palena, Teaism, Vidalia, Kinkead's, Mendocino, Cashion's Mourayo, Pizzeria Paradiso, and Mark and Orlando's, are proximate. Central (Michel Richrad's latest triumph), Beck's, Marcel's, Rasika, Corduroy, and Tosca are not much farther. In Adams Morgan, just to the east, you will find several outstanding bakeries and cafes (Tryst on 18th, for example), where you can just linger or work for extended periods of time undisturbed, including Locolat (Florida and 18th), a Belgian waffle, pastry, coffee, sandwich, and chocolate shop that will remind you of Europe.
There are two good used bookstores in the area, Idle Time Books on 18th Street in Adams Morgan and Second Story Books at 20th and P just west of Dupont Circle. While Borders and Barnes and Noble crop up here and there, Georgetown features one of the last great independent bookstores in the country, Bridge Street Books (it may be small but it's esoteric).
For cinephiles, Landmark's E Street Cinema (Red Line, Metro Center) showcases independent and foreign films—that is, something other than mainstream Hollywood productions. If you prefer the latter, however, Gallery Place and Cleveland Park both have just what you're looking for and each area is loaded with good bars and restaurants for late night fun.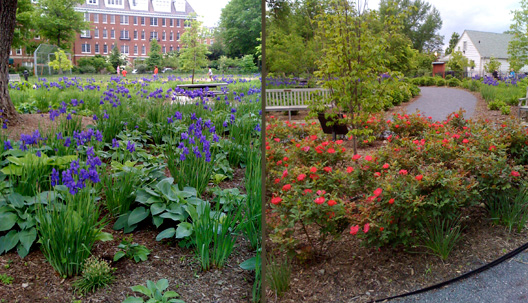 Mitchell Park. Host to flower gardens, picnics, a playground, and few of man's best friends.
Photo courtesy of Westmoreland resident Ruth Sando.
Other conveniences and amenities abound. Post Offices lurk in the immediate vicinity, one at Florida and T across the street from the Washington Hilton, the other at 18th and Kalorama in Adams Morgan. At off hours, these facilities rarely have lines. There are 24-hour drugstores, a Rite Aid and a CVS, within mere minutes. Dry cleaners are also plentiful and a short walk. There is a long-time cobbler, a veritable neighborhood institution (who can also fix almost anything), at 21st and P. If Starbucks is to your liking, there are two north of Dupont Circle alone. A great news store flourishes at Connecticut and S, stocking countless newspapers and periodicals. At least three flower shops are in short walking distance.
Check out ATTIC DC to discover and learn about other local shopping options, including vintage and antique furniture and home decor from DC neighborhood stores that would work well in a Westmoreland home.
For recreation and exercise, the National Mall is just over two miles away. If you walk straight south on 21st (don't miss the incomparable Phillips Gallery as you do) to Constitution, you'll end up at the Vietnam Veterans Memorial complex (with the Federal Reserve and State Department nearby). From there, you can head south and west and take in the Korean, Lincoln, Roosevelt, George Mason, and Jefferson Memorials. Or you can move east along the reflecting pool and make your way to the Washington Monument via the World War II Memorial. Any number of Smithsonian museums can be found by continuing your walk east toward the Capitol. Back closer to home Rock Creek Park snakes through and around the area. It offers not only stunning vistas but also much pleasant diversion. There are numerable access points to it, including on P Street, Calvert Street, and Massachusetts Avenue, if you care to take a walk or go for a long bicycle ride.
At some point, you may actually have to leave the neighborhood or the city. Metro's Red Line offers entrances/exits just to the north and south, both located on Connecticut Avenue. The Red Line, furthermore, connects to the Blue and Orange and the Yellow and Green Lines at Metro Center and Gallery Place, respectively. Either one of these connections will take you to Washington National Airport and, one day, Dulles. You can also take the Red Line to Union Station and catch a commuter train to Baltimore-Washington International Airport (which is about 35 miles north of the city, due east off the Baltimore-Washington Parkway). Or, should you have family or friends visit, hotels dot the area, including the charming old world Normandy Inn on Wyoming (one block north), the Washington Hilton across the street and the Churchill next door (which usually offers a neighbor's discount).